SEO Copywriting: How to write content for people and optimise for Google
If you're writing content for your website, then surely the best way to do it is to fill it with the right keywords, surely? It's not as simple as that. You may get picked up by Google, but your content isn't going to be of any use to those reading it. The key is to strike the balance between the two, creating good content that Google will show to potential readers. Here's how you do it.
Put the user first
If the content is no good to the reader, then they aren't going to want to read it. First and foremost, make content that your audience can use and they'll keep coming back. If you don't, they're not going to bother visiting your site again.
Use keywords carefully
If you stuff your content full of keywords, Google will penalize you, rendering the exercise pointless. Instead, strategically place your keywords naturally, throughout the text. Don't use the same keywords in every post in order to keep things fresh and interesting.
Keep updating
If you don't keep updating, results for your page will keep appearing lower and lower down the list on Google. Fresh content is always better, and your readers will appreciate new and interesting content. After all the world never stands still, so neither should you.
Watch the length of your posts
The length of your content is important. Too long, and readers won't share it. Too short, and you can't go into the detail you need. Around 1000 words is about right, when you need to write. Keep an eye on your word count, and edit if you find you're getting too wordy.
Start off with a good headline
To grab your readers, you need to get their attention right away. Your headline needs to be informative, engaging, and enough to draw the reader in. Make sure your headline offers something that the content can deliver. If you want to test your headline's effectiveness, there are lots of tools online that will check it for you.
Speed is everything
Your site needs to load fast, or you're going to lose readers. Online, you'd be shocked at how quickly they'll lose patience and click away. Optimize your website so it loads quick enough for modern readers to stick around long enough to read what you have to say.
Add links
You'll have used other sources to create your content, so include links to other pages in your work. It shows Google that your sites are connected, and will help drive traffic to you. Readers will also value having additional reading on a topic they're interested in.
Write lists
A list, quite like this one, will hold a reader's attention longer. That's because it draws out all the important information for them, meaning they have to do a lot less work. Find all the vital info and give the reader exactly what they need, nothing more.
Show your face
Wonder why newspaper columns and blogs are always accompanied by the writer's name and photo? It's because readers trust a piece more if it's accompanied by personal details of the writer. Show a name and photo, and readers will trust what you've got to say.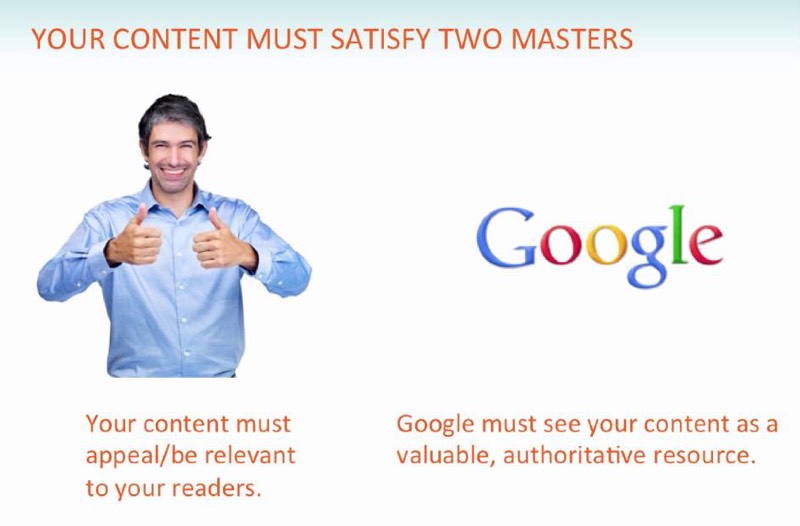 Tools to help you write good content
You don't have to do all the hard work yourself. Thanks to the internet, there are plenty of useful tools out there that can help you write that content. Here's some of the best tools out there. Give them a try, you're sure to find one that's just right for you.
Wordstream Keyword Tool: This tool is priceless when it comes to picking keywords. Use it to find the best keywords for your piece, and get the readers flooding in.
Ginger Software: Ginger is a great all in one writing tool if you're looking to improve your writing. There's a spelling and grammar checker, translation service, and even a tool that reads your writing back to you.
Assignment help: This writing resource is invaluable when you need content written quickly. If you can't handle it yourself, give their writers the brief. They'll create useful, engaging content for you much quicker than you'd think.
Keyword Density Checker: This small tool is something everyone should have in their arsenal. Paste your content in, and it will check whether you've used your keywords correctly, in order to be picked up by Google.
On Page Optimization Tool: This tool allows you to see your website as a search engine spider sees it. This means you can see where you need to make adjustments to get the page picked up by search engines more often.
Slick Write: This writing tool allows you to really dig into the data of your writing. You can see detailed graphs on your content, and even highlight and fix errors as you write.
Do my assignment: Need some guidance in how to create the best content? This writing tool has you covered. Contact their writers and work with them when you're writing, to improve your output.
Spell Checker: Your in built spell checker is ok, but if you want an in depth spell check, use this site. It's also a very handy place to quickly check the spelling of any given word.
Easy Word Count: This website is a good way to check the length of any piece of writing. When the length of your content is important, check it here before you post it.
Big Assignments: This company can proofread any piece of content before you publish. It's a highly helpful service that you should take advantage of before putting anything online.
If you put these tips and tools into action, you'll soon see a difference in how you bring in readers. They'll stick around longer, keep coming back, and even become customers. Good content is worth much more than you'd think.
By Gloria Kopp
Gloria Kopp is a writer and an elearning consultant from Sydney. She works as a content manager at Write my essay company and is a regular contributor to such websites as Engadget, Huffingtonpost, etc.
Related Tags: Website Copywriting
https://www.hypercube.co.nz/wp-content/uploads/2017/03/SEO-Copywriting.jpg
320
836
HyperCube
https://www.hypercube.co.nz/wp-content/uploads/2020/08/hypercubelogo.png
HyperCube
2017-03-29 14:32:13
2019-01-23 17:19:38
SEO Copywriting: How to write content for people and optimise for Google