If you're looking to improve the position of your website in search results (and who isn't) it can be difficult deciding on the best way to approach SEO. With the rapid rate at which search engines update their algorithms and the mystery surrounding it, the single best piece of advice would be to create a first-class website that serves your visitors needs and follows the widely accepted conventions for on-site and off-site SEO.
Done correctly and you will see a high conversion rate, increased customer loyalty and improved positioning in the search results. But there's more to SEO than just having a well-performing website. To determine which long-term strategy best suits your company's needs, it's first necessary to understand what methods to employ, and how best to execute them.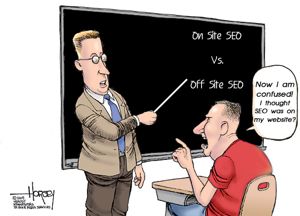 What's the difference between on-site and off-site SEO?
When we speak of on-site SEO we are talking about the data within your website that tells Google and other search engines who you are and what your web page is about. Here is a detailed list of what that entails:
Your website page and blog content
Title tags, meta tags, and H1 tags
Your user interface, layout, and all aspects of design
Descriptive alt text and titles for all your images
Keyword usage and density
How fresh and unique your content is
How fast your webpages load
URL structure, and whether keywords are present
XML sitemap
Whether or not your pages are correctly indexed
Internal linking and navigation within the site
Correct setup of the Robots.txt file
301 redirects
By comparison, off-site SEO consists of the link building and marketing techniques you use outside of the website to raise the profile of your site.
Some examples of this are:
Building back links
Press releases and other articles that reference your website
Submissions to SEO friendly directories
Competitor analysis
Social media posts and marketing
Keyword analysis – the popularity and accuracy of your keywords
Leaving comments and links on other sites or forums
Optimised videos placed on sites such as YouTube
AdWords and other pay per click campaigns
Which is more important?
We would always recommend a search engine optimisation programme that incorporates both on-site and off-site SEO. But if we were to pick which you should do first, on-site would be the one. The reason being that all the off-site work in the world won't make up for a bad website. Get the on-site factors the very best you can, add quality content that's informative, and speak to your audience.
Next, focus on your off-site strategies such as generating a long-term link building plan, and regular submission to directories, media sites, etc. PR strategies are critical at this phase, as are online campaigns, RSS feed submissions, and connecting with industry leading bloggers and forums.
Two tips for great on-site SEO
Ready to get started with your SEO efforts? Here are the three most important techniques for on-site SEO:
A powerful SEO plugin: All the sites we build include the Yoast SEO plugin. We believe this to be the best WordPress SEO plugin available. It's easy to use, highly effective and provides valuable feedback on how well your pages are optimised. The lack of a great SEO plugin can cause unnecessary mistakes, and dramatically impact your rankings.
Excellent page title tags: Your title tags communicate directly with search engines and reveal the details of your content. If they are missing or inaccurate you will have lower rankings. As a rule, structure the title tag so that it includes your primary keyword near the start of the title, includes your company name and acts as an eye-catching headline. For example this one for 'free seo tools': Fantastic Free SEO Tools You Should Be Using | HyperCube Web Design
A compelling and unique page meta-description. This should explain what the page is about, include the keyword and continue 'selling' the page. Make it sound interesting enough that the person wants to click through to see more: There are some fantastic free SEO tools available to assist you in optimising your website. Find out what you should be using and what they'll do for you.
If you haven't used the Yoast plugin to set you page titles and descriptions, or they aren't optimised, I suggest you get started on this sooner rather than later. It's easy to do and will improve your sites performance in search.
By Aaron Enright
https://www.hypercube.co.nz/wp-content/uploads/2013/09/Off-site-seo-factors.jpg
250
640
HyperCube
https://www.hypercube.co.nz/wp-content/uploads/2020/08/logo-sm.png
HyperCube
2013-09-30 17:13:25
2017-02-14 14:02:45
What is on-site and off-site SEO, and why does it matter?