What is the best blog post size for SEO in 2017?
How long should a blog post be? While this may seem like a simple question, finding the answer isn't such an easy task. In fact, it's so complicated that a number of studies have been carried out to identify the ideal blog post size.
When it comes to determining how long your blog posts should be, you'll have to focus on two main factors – the preferences of your readers and the preferences of major search engines. While you may have some idea about what your readers tend to like, pleasing search engine crawlers may require a bit more effort.
So, what's the ideal blog post size that will help you make the most of your content? The following article will help you find out.
Does blog post size matter?
In the world of SEO content, size and quality are both important factors. Back in 2012, SEO experts were suggesting a blog post size in the range from 500 to 700 words. While such blog posts may have been adequate at the time, things are a bit different now.
There are a few reasons why longer content tends to perform better.
For a start, it offers a deeper look at a topic. Developing an original, well-researched and comprehensive piece in about 500 words is a mission impossible. You'll need at least 1,000 words in order to develop an argument, provide supportive evidence and give your readers additional tips/information.
In addition, content has become one of the most important search engine ranking factors. More and more websites are competing for the attention of a limited audience. More and more websites are putting content out there. Thus, a superficial and brief glimpse at a topic will make it almost impossible to stand out from the crowd and impress readers.
There's one more very simple (yet logical reason) why blog post size matters. A longer text, especially a well-written piece, will require more time to go through. Thus, people will be spending more time exploring your website and the engagement will grow. Both of these are factors that Google uses to assess website quality. Having people spending more time reading your content will give you better search engine positioning in a heartbeat.
The evidence
Recently, Orbit Media published its 3rd Annual Survey of 1000+ Bloggers. The survey is providing some interesting information about the evolution of the ideal blog post size.
For a start, the study shows that bloggers are publishing less frequently because they're dedicating more time and effort to the creation of lengthier blog posts. While most bloggers needed one to two hours to produce a blog post in 2014 (over 30% of the people questioned), bloggers today are requiring a longer period of time to produce a quality post. Of all people questioned, 23.5% said that they needed two to three hours for writing, 19% needed three to four hours, 13.3% required more than four hours and 11.9% needed more than six hours to put together a blog post.
It's also interesting to point out that the bloggers who reported spending more time on their writing for the production of a longer text saw better results. Thirty-three% of the bloggers who took more than six hours to write a blog post reported "strong results." In comparison, 23% of the bloggers who took less than six hours to produce a new piece of content experienced the same.
The study found out that the typical blog post was 808 words in 2014. In comparison, it has reached a length of 1,054 words in 2016. The percentage of blogs that feature 500 words or less has decreased by nearly 50% over the past two years.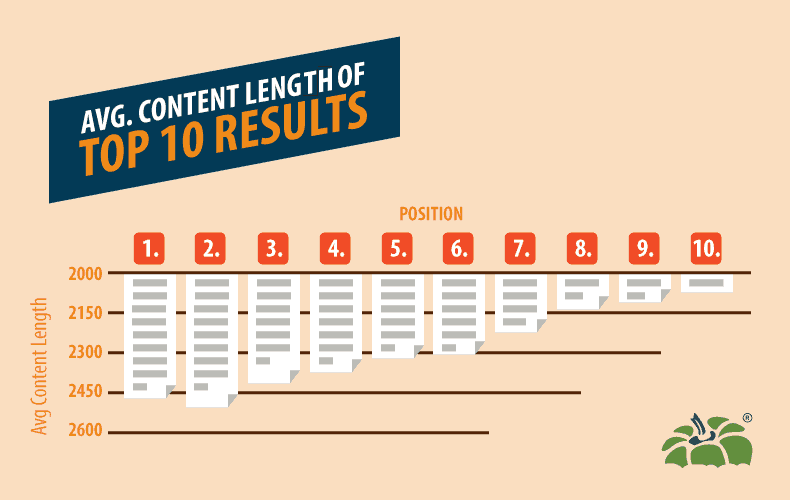 Of the bloggers who produce content averaging 2,000 words per piece or more, 40% report strong results. This is true for solely 13% of the bloggers that use content averaging 500 words or less.
A 2015 SerpIQ study has produced similar findings. The average content length of the first Google result for a certain query is 2450 words. The second result exceeds this number slightly and the third one is about 2,400 words.
Blog post size and social sharing: another key SEO factor
There's one more way in which blog post length could affect the success of a website and its search engine positioning.
In 2016, HubSpot carried out a thorough analysis of more than one million online articles. The website found out that the ideal length in terms of optimization and social sharing is 2,250 to 2,500 words.
The content exceeding 2,000 words got a bigger number of social shares than shorter blog posts. The organic traffic is also the highest for articles in this category, which indicates favourable search engine positioning for such texts.
Articles over 2,500 words get the most inbound shares and the biggest number of social links. The explanation for this phenomenon is relatively simple. Long content gives the author a chance to present their knowledge in the field. It gives an opportunity to demonstrate authority and build the website's reputation in the respective niche. If you're perceived as a writer that has in-depth knowledge in the particular topic, chances are that your content will be shared more often.
Blog posts in the 2,000 to 3,000 words range get 4,254 average shares. In comparison, texts in the range from 1,000 to 2,000 words are shared 3,456 times and texts that average less than 1,000 words are shared an average of 2,823 times.
A BuzzSumo study provides similar information. Blog posts ranging 3,000 to 10,000 words (yes, some authors are going this far!) average 8,859 total shares across channels like Facebook, LinkedIn, Twitter, Google+ and Pinterest. In comparison, texts that average less than 1,000 words will get fewer than 5K shares across all of the platforms.
A big number of backlinks and social shares can help immensely for better search engine positioning. While the relationship between social sharing and organic ranking is an obscure one, evidence of the relationship between the two has emerged as far back as 2010.
The most important blogging trends to follow in 2017
As you can see, blog post size is becoming a much more important factor than the frequency of publishing. This doesn't mean you should publish two times per year and still expect to see excellent results. What you can do is focus your efforts on producing longer content. Getting your blog posts to 2,000 or even 3,000 words and beyond will give you much better outcomes than the creation of five 400 word articles per week (even if you have just one weekly update).
In 2015, the average blog post length increased approximately 10%. The trend has been sustainable for multiple years already. Thus, you can't go wrong by increasing the length of your content. A big number of words on its own, however, is not going to be sufficient.
Longer blog posts should be used to provide a deeper look at a topic. In essence, you're giving people information that they'll otherwise have to gather by visiting 10 different websites. Just length without substance is not going to get the job done. Every single text that you publish in 2017 should be planned and structured carefully. The more supportive evidence and unique information you have to offer, the better results you're going to get.
It's also important to point out that blog post length is an abstract concept. In some industries, it will be relatively easy to exceed 3,000 words with every single post that you write. In other fields, however, 1,000 words will be more than enough to get the SEO results that you're hoping for.
This means that while sticking to blog post length guidelines is a good idea, you may want to experiment with the possibilities. Do a couple of texts that feature differing lengths. Check their results in Google Analytics and Google Search Console. Based on this data, you can make the best decisions for the future of your website.
Frequency of posting: a brief explanation
We've touched upon the frequency of posting in the previous part of the article and it has emerged as a secondary factor after blog post size. Still, giving you a guideline can make things a bit simpler for you.
While the emphasis on blog post size and content quality should be strong, regularity of updating will also help you win over major search engines like Google.
A 2015 Hubspot study suggests that companies that create at least 16 blog posts per month get 3.5 times more traffic than the companies that publish up to four blog posts per month. The impact of monthly blog posts on organic traffic isn't very different for B2B and B2C companies.
The same holds true in terms of leads. Companies that publish 16 blog posts or more per month get 4.5 times more leads than the businesses that blog up to four times per month. The total number of blog posts also matters with companies that have a bigger number of articles in their archive performing much better than the ones that have just started blogging. The reason is simple – old articles that feature evergreen content tend to generate a lot of traffic.
While this information is important, it's also imperative to remember one thing – people can handle so much new content. Hubspot ran an interesting experiment by varying the number of articles published on the website. The company's benchmark is 23 posts per week. For two, weeks, the website published only 11.5 posts per week and for the coming two weeks – 34.5 posts per week.
The findings of the experiment were amazing – traffic was the same during the benchmark period and when Hubspot was publishing 34.5 articles per week. The results of the finding suggest that a higher volume isn't always going to lead to improvements. In essence, there's no need to publish every single day if you've already come up with a content plan and schedule that helps you maintain engagement high.
Final verdict
2017 is going to be the year of long blog posts. If you want better search engine positioning and more engaged readers, try to make your blog posts average at least 1,500 words or even more.
Longer content builds your authority, it's seen as more useful by readers and it generates a bigger number of backlinks/social shares. These are all factors that play a role in the Google algorithm and determine the content's positioning on the search engine results page.
While focusing on length and quality, you should also do your best to maintain a regular upload schedule. While adding new content every single day isn't going to give you the best possible results, neglecting the website will have a negative impact on your SEO regardless of article depth and length.
https://www.hypercube.co.nz/wp-content/uploads/2017/03/blog-post-size.gif
320
836
HyperCube
https://www.hypercube.co.nz/wp-content/uploads/2020/08/hypercubelogo.png
HyperCube
2017-03-06 12:23:50
2019-01-23 17:25:16
What is the best blog post size for SEO in 2017?